She was one of the brightest stars Britain ever produced. But Dorothy Squires, whohas died aged 83, ended her life a poverty-stricken recluse. Michael Brown looksback on an extraordinary life. IT was a "rags to ricbes to rags" story. During the riches part of it the world was her oyster and when penury came she lived in a modest cottage near Pontefract. The end for singing legend Dorothy Squires came yester- day when the former wife of James Bond and Saint star Roger Moore died at a hospital.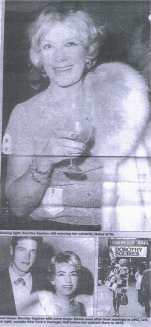 In her native South Wales Dorothy Squires earned a Fortune as one of Britain's highest selling recordung stars,but ended up bankrupt and bomeless. At the peak of her career in the 1940's and 50's she packed theatres all over Britain and America and her reords soldin millious. She was a dynamic, dramatic highly emiotional singer whoretained an army of fans throughout a career spanning half a century. In 1970, at the age of 55 she created a senation when slhespent £ 5000 of her own money to hire the London Palladium a comeback concert. Friends counselled against the move but tickets sold out in 10 hours and overnight she was inundated with offers.But her life was to disintegrate into a series of calamites and misfortunes. As recently as March last year she was driven by penury to auction her jewellery.She tried to sue so many times in the Hight Court losing more often than not that in 1982 she was named a vaxetious lit-gant and banned banned from trying again without Judicial leave.By then she had launched 20 bizarre legal actions in 10 years claming libel, assault piracy of hee autobiography and misrepresentation in the biography of Roger Moore, husband for 16 years until their divorce in 1968.

She lived big in big houses. Her last mainsion as at Bray, Berkshire, a 17 room pile that was ouce home to king Edward VII's mistress Lillie Langtry.
In l988 she was evicted in bankruptcy proceedings and it was then that she welit to live in a modest cottage in Ackworth, near Pontefract. She lived there as a recluse, refusing, to answer the door,and left in l995 hours before bailiffs were to act on a County Court repossession order.

It was to a home in the Rhondda Valley, South Wales, that she went – placed at her disponal by a munificent fan. The torch singer, the daughter of a steelworker, was born Edna May Squires on March 25, 1915, in a travelling van parked in a field at, Poutyberern, Carmarthen, South Wales. She grew up in Dafan, worked in a local tlnplate factory, and made her first public appearance at the Ritz Ball-room, Llanelli, as a crooner with the local dance band Her stunning carreer was launched in the 1930s after she moved to London and was to take her to the millionaire peaks of showbusiness. She was discovered by American pianist Charlie Kunz and joined his band at the Casani Club later joining bandleader Billy Reid in 1938 as his singer and lover in a partnership which lasted until 1951.
During the war they were one of the most successful double acts oh the vaniety circuit, making frequent broadcasts which helped to sell her records in profuse numbers. She had a big UK chart hit with "I'm Walking Bebind You" in 1953 the year she was married, in New Jersey, to Roger Moore, an unknown actor 14 years her junior. They had met at a party at her Bexley home and she said many times over the years: it started with a suabble, then he carried me of to bed" She took him to Hollywood and introduced him to all the right people, and they partied with Cary Cooper, Grace Kelly Doris Day and Rock Hudson. As his career took off, hers started to slide, and the first signs if her obsessive, erratic behaviour began to show. In her 1977 autobiography Rain Rain Go Away, she told how she realised she must fight her jealousy and decided she would do anything to keep Moore. But the actor and the Singer, whose other hits included "Say it With Flowers and "For Once in My Life" parted acrimoniously 1961. Dorothy Squires obsession with Moore never waned. And as she lay dying, Moore telephoned the hospital. On the phone he told the legend's Emily-Jane Squires: "Take hold of her hand, give it a little squeeze ,and tell her Rog is thinking of her." When she was given Moore's message, Dorothy Squires smiled and spoke just one word. "Magic," she said.

Yorkshire Post 15/4/1998.